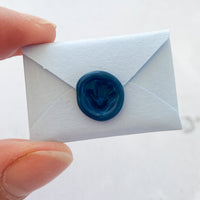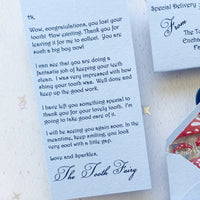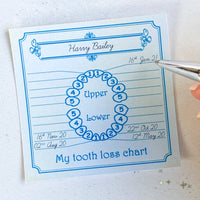 Boys Tooth Fairy Gift
Regular Price

£15.00

Sale Price

£15.00

Regular Price

Unit Price

per
A little tooth fairy letter that's so perfect and tiny it can only be from the fairies. Their little handprint in the wax seal is all the evidence you need!
Before bed, complete the Tooth Loss Chart together with your child and instill excitement by reading 'How to Tell if a Fairy is Nearby'. Place their tooth in the little bag and ask your son to slip it under their pillow. When they wake, they will find their tooth has been exchanged for a tiny little letter from the tooth fairy, a magnifying glass, a monetary reward and sprinkles of magic fairy dust! (mini star sprinkles are inside the letter)
Your gift includes:
- a tooth chart to record lost teeth and on the reverse, "How to tell if a Fairy is Nearby" - a sure way to build up excitement leading to the Tooth Fairy's visit.
- a pink bag that keeps the tooth safe under the pillow and provides a great place for the Tooth Fairy to leave a monetary reward.
- a miniature, letter from the Tooth Fairy, including - a tiny perforated stamp, postmark and traditional wax seal. Remember, it's only a real fairy letter if it has the official fairy seal!
- a small metal magnifying glass
- a Gift box that also doubles up as a place to store lost teeth if you wish to collect them.