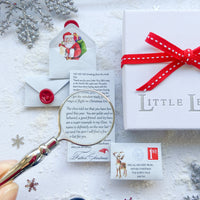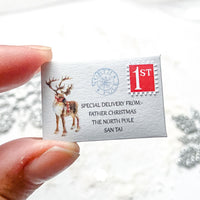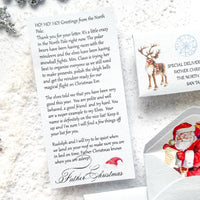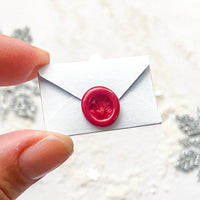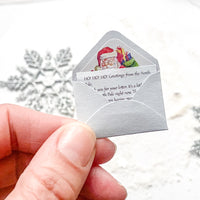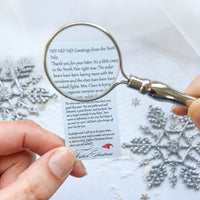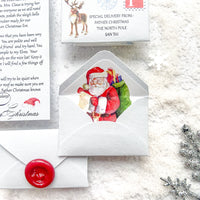 Father Christmas Letter & Magnifying Glass (Non-Personalised)
Regular Price

£9.95

Sale Price

£9.95

Regular Price

Unit Price

per
This is one of the cutest and most exciting letters your child(ren) will ever receive. It's a teeny, tiny letter handmade by the elves and delivered by Father Christmas.

Each Little Letter has a tiny first-class postage stamp and a wax seal, sporting an Elves handprint to show it's genuine! Once your child opens their envelope they will find the letter detailed below and sprinkles of silver snowflakes (see images). They use the metal, ornate magnifying glass to zoom the writing. It's great fun for everyone involved and the children love playing with their magnifying glass afterwards. 
Letter and Magnifying glass arrive in a gift box tied with a beautiful red ribbon.
N.B. This letter can not be personalised. (see other listings for personalised version).

Your Father Christmas Letter reads:-

HO! HO! HO! Greetings from the North Pole.
Thank you for your letter. It's a little crazy in the North Pole right now. The polar bears have been having races with the reindeers and the elves have been having snowball fights. Mrs. Claus is trying her best to organise everyone as we still need to make presents, polish the sleigh bells and get the reindeer ready for our magical flight on Christmas Eve.

The Elves told me that you have been very good this year. You are polite and well behaved, a good friend and try hard. You are a super example to my Elves. Your name is definitely on the nice list!

Rudolph and I will try to be quiet when we land on your roof so make sure you are in bed on time. Father Christmas knows when you are asleep!
Father Christmas