Wedding Morning Bridal Gift - A twist on a Victorian Tradition
February 24 2022 – Victoria Hayley Moore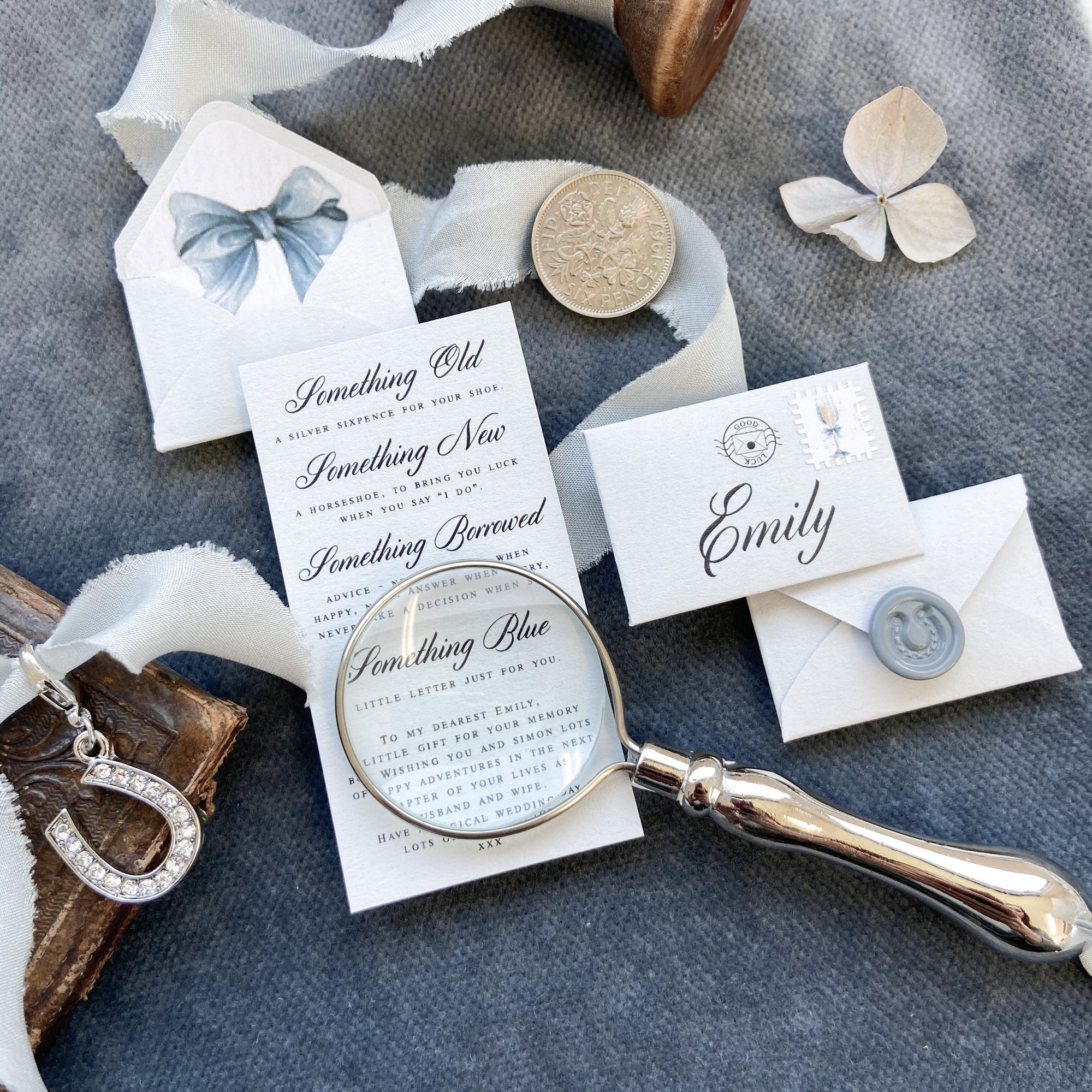 Everyone knows the traditional rhyme, 'Something old, something new, something borrowed, something blue and a sixpence in her shoe' but where does this old fashioned superstition originate?
The History....
Said to originate from the county of Lancashire in the Victorian era of approximately 1876, 'Something old, something new, something borrowed and something blue' (plus a sixpence) represent the 5 objects a bride should wear on her wedding day outfit or carry with her on her wedding day to ward off the Evil Eye which is said to be "a curse passed through a malicious glare that would make the bride infertile"
The meaning of:-
'Something Old' represents continuity. Traditionally this would be an heirloom belonging to an older relative, often a sentimental piece of jewellery. 
'Something New' offers the bride and groom optimism for the future for the new chapter of their life they are about to start together. 
'Something Borrowed' to bring the newlywed couple good luck. Borrowing something from a happily married friend or relative is said to ensure a little of their good fortune rubs off on them. 
'Something Blue' wearing blue was meant to deflect that pesky Evil Eye however it also stands for love, purity and fidelity. Traditionally this would have been a blue garter worn beneath the brides dress. 
'A sixpence in her shoe' 
A british silver sixpence was to represent prosperity for the couple as they start their lives together. Traditionally the Father of the bride presents her with a sixpence just before she walks down the aisle to wear in her left shoe as a gift of good luck. 
Whilst the Evil Eye is a thing of the past, this little wedding rhyme is still a much loved and followed sentimental tradition that has many fresh takes on incorporating the sentiments tokens into a bride's wedding day. 
As a twist on this tradition, Little Letter has created a unique wedding gift for the bride on the morning of the wedding. Her wedding day gift includes tokens of love and good luck making it the perfect keepsake gift. Each little blue letter can be personalised with the bride's name and a beautiful message for her to cherish making it the ideal gift from her Mum, Dad (Parents), Sister(s), Maid of Honour, Bridesmaid or her groom (husband to be).